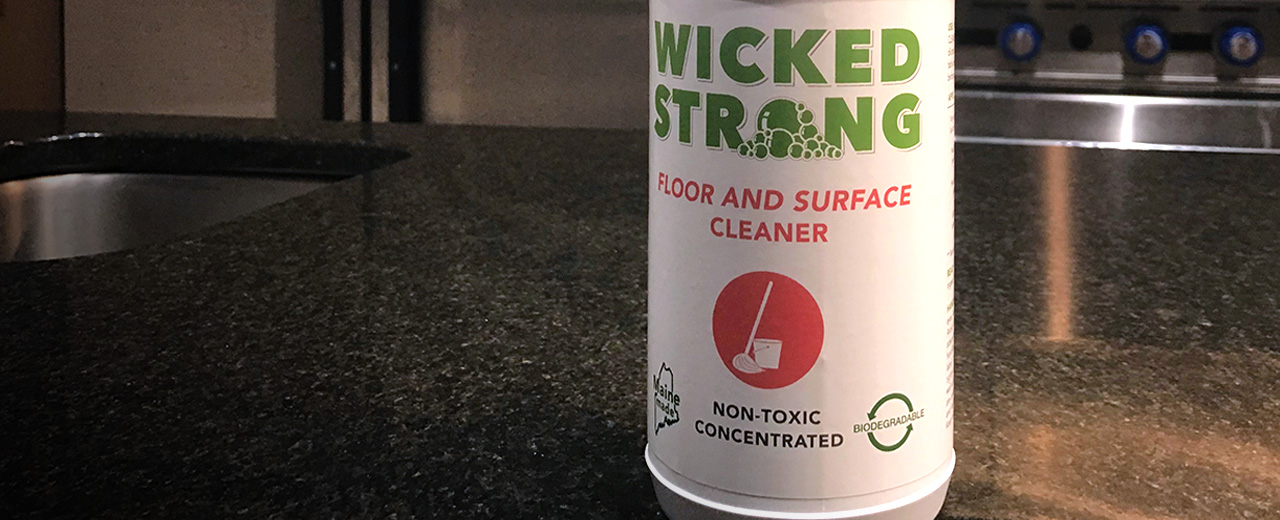 WICKED
STRONG
A powerful and eco-friendly Maine-made,
non-toxic cleaner and degreaser.
Dennis Paper & Food Service is your New England distributor for Wicked Strong!
Naturally tough on grease, Wicked Strong makes purposeful, professional products. Their Floor & Surface cleaner is low foaming, fast acting and yes, wicked strong!
Their recycling process turns used cooking oil into biodiesel and powerful, non-toxic cleaners while generating near-zero waste. Wicked Strong Floor & Surface cleaner is tough on grime and easy on the environment. Wicked Strong Floor & Surface cleaner is featured in the Chef's Pantry.
---
FLOOR & SURFACE

Wicked Strong Floor & Surface cleaner can be used as is for heavy-duty jobs or diluted with water for general purpose cleaning of hard floors, hard surfaces, vinyl, plastic, painted surfaces or any greasy surface.

Item #16718
---
Wicked Strong cleaners are made using the byproducts of Biodiesel production here in Maine!
Like many great things, Maine Standard Biofuels' discovery of their Wicked Strong formula was an accident. They spilled biodiesel waste product on the floor of their Portland, Maine biorefinery – when they mopped it up they noticed their floor was cleaner than ever! After bringing a chemist on board they began developing their line of ecologically-friendly, non-toxic heavy-duty cleaners.
THE WICKED START