Three-Bean Chili
This southwestern staple is the perfect blend of classic, hearty ingredients and is guaranteed to please even the pickiest pallets. Incorporating Sweet Baby Ray's Original Barbecue sauce gives this robust chili its distinctive sweet, smoky flavor.
INGREDIENTS

2 tbsp olive oil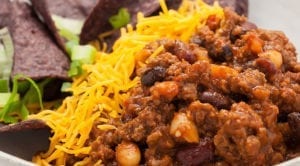 1 cup chopped Spanish onion
2 tsp minced garlic
2 cups diced red and green bell pepper
2 lbs ground beef
2 tbsp ground cumin
2 tbsp chili powder
1 tbsp kosher salt
1 tbsp black pepper
14 oz can diced tomatoes with juice
1 cup Sweet Baby Ray's Original Barbecue Sauce (#77437)
1 cup beef broth
1 can black beans, rinsed
1 can red kidney beans, rinsed
1 can white kidney beans, rinsed
DIRECTIONS
Heat oil in a skillet over medium-high heat. Add onions, garlic and peppers, and saute until onions are translucent.
Add ground beef, salt, pepper, cumin and chili powder, and cook until meat browns.
Add tomatoes, Sweet Baby Ray's Original Barbecue Sauce and beef broth. Bring to a boil, reduce heat and simmer for 1 hour.
Add beans and adjust seasoning.
Garnish with shredded cheddar cheese and scallions.