Sriracha Spare Ribs
St. Louis Ribs glazed with Sweet Baby Ray's Sriracha Glaze Sauce, topped with chopped cilantro, pan roasted peanuts and sesames seeds.
INGREDIENTS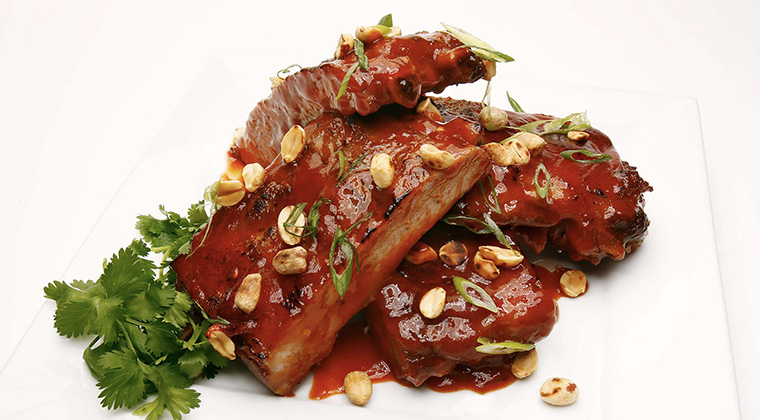 2 cups Sweet Baby Ray's Sriracha Glaze Sauce item #11064
12 ea St. Louis Ribs, cooked, 2 bone-cut
1/4 cup pan roasted/charred peanuts
4 tsp chopped cilantro
2 tsp black sesame seeds
DIRECTIONS
Using a large bowl mix half the sriracha sauce with ribs.
Place on a sprayed baking sheet and roasted in a 350F oven until an internal temperature of 165F has been reached.
Remove from the oven and glaze with remaining sriracha sauce.
Serve 3 ea spare ribs on plate garnished with 1tbsp peanuts, 1 tsp cilantro and 1/4 tsp sesame seeds.
Place iSee More Sauces & Recipes