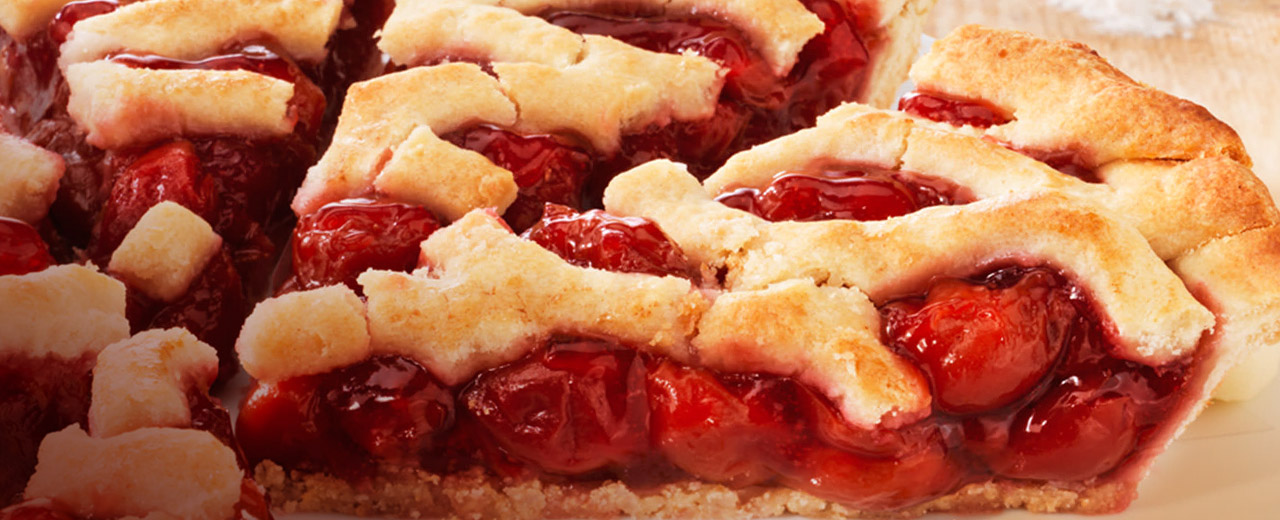 The Pie Case
Favorite flavors, trusted brands,and profesional ingredients.
A full compliment of pies prepared using time honored recipes paired with carefully sourced, authentic ingredients.
Our selection of pies are supplied by leading industry manufacturers who take great pride in their products. We've got you covered, from thaw and serve and ready to bake, to all the ingredients you need to slice up housemade tastes that your customers will love.
Looking for more ideas? Be sure to ask your A.E. for additional suggestions!
---
Item #
Description
Brand
1101
Pre Sliced Pumpkin Pie
Chef Pierre
12816
Chocolate Creme De La Cream
Chef Pierre
12852
Apple Hi Pie RTB
Chef Pierre
12856
Blueberry Hi Pie RTB
Chef Pierre
12857
Fruit of Forest Hi Pie RTB
Chef Pierre
12858
Openface Pumpkin Thaw & Serve
Chef Pierre
12860
Pumpkin Pie RTB
Chef Pierre
12862
Strawberry Rhubarb Pie RTB
Chef Pierre
12864
Chocolate Cream Pie
Chef Pierre
12866
Boston Cream Pie
Chef Pierre
12884
Reese's Chocolate Peanut Butter Pie
Sweet Street
12998
Andes Chocolate Mint Cream Pie
Chef Pierre
13019
Coconut Cream Pie
Chef Pierre
2010
Strawberry Rhubarb Hi Pie
Chef Pierre
4398
Peanut Butter High Pie
Dianne's
5788
Lemon Meringue Pie
Chef Pierre

---

---

---

---

Pie Related
33182
Apple Pie Filling
Marquis
19375
Blueberry Pie Filling
Lucky Leaf
18959
Cherry Pie Filling
lucky leaf
33188
Lemon Pie Filling
Globe
12870
Lard Shell RTB 10″
Chef Pierre
12997
Rolled Pie Crust 9″ 24ct
Pillsbury
6404
Extra Deep Foil Pie Pan 11″
HFA
6397
1″ Deep Foil Pie Pan 9″
HFA
6398
Foil Pie Pan 10″
HFA
35678
Hinged Clear High Pie Container 10″
Inline
35669
Hinged Clear Pie Slice Container
Dart
35131
White Bakery Box 10x10x2.5
QCC
35125
White Windowed Bakery Box 9x9x2.5
Packer
35136
White Bakery Box 10x10x4
Qual Carto
Pie the Numbers
Pie isn't just for after-dinner dessert. Thirty-five percent of Americans say they've had pies for breakfast. Pies as lunch (66%) and midnight snacks (59%) also have a popular following!
36 Million
Number of Americans who identify apple pie as their favorite
47%
Percent of Americans for whom the word "comforting" comes to mind when they think of pie.
6 Million
Number of American men ages 35-54 who have eaten the last slice of pie and denied it.
1 in 5
Proportion of Americans who have eaten an entire pie by themselves.
113 Million
Number of Americans who have eaten pie for breakfast.
75 Million
Number of Americans who prefer to drink milk with their pie.
90%
Percent of Americans who agree that a slice of pie represents one of the simple pleasures in life.
Data from the APC (American Pie Council)