Grilled Shrimp & Guacamole Tostada Bites
Grilled Shrimp & Guacamole Tostada Bites
Miniature fried corn tostadas with guacamole, Citrus Chipotle BBQ glazed grilled shrimp topped with Ranch dressing and cilantro. This seafood appetizer with upscale style features approachable ingredients that combine for impressive flavor. These delectable bites are an excellent choice for catering menus, and if you're looking for your next lunch special, this concept makes a fantastic quesadilla!
INGREDIENTS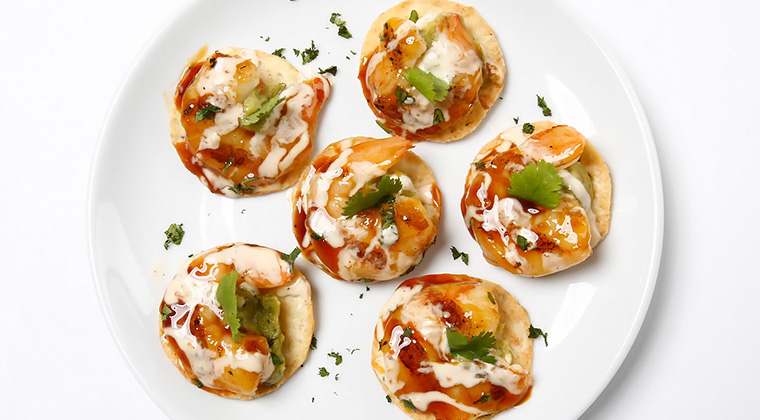 6 miniature corn tostadas
1 bamboo skewer
3 tbsp fresh guacamole
6 shrimp 31/35, tail removed, skewered
1 fl-oz Sweet Baby Ray's Citrus Chipotle Barbecue Sauce (#17054)
1 tbsp Ken's Ranch dressing (#71012)
6 cilantro leaves
1 tsp chopped cilantro
DIRECTIONS
Fry mini tostadas in 365F deep fryer until done, drain and sprinkle with salt.
Place shrimp on bamboo skewer and grill on each side until 150F brush with Sweet Baby Ray's Citrus Chipotle Barbecue sauce on both sides.
Place mini tostadas on warm serving plate and top with 1.5 teaspoons of guacamole on each, then place a barbecue-glazed shrimp on top of guacamole.
Drizzle tostadas with ranch dressing, garnish with a cilantro leaf on top of each and sprinkle plate with chopped cilantro.