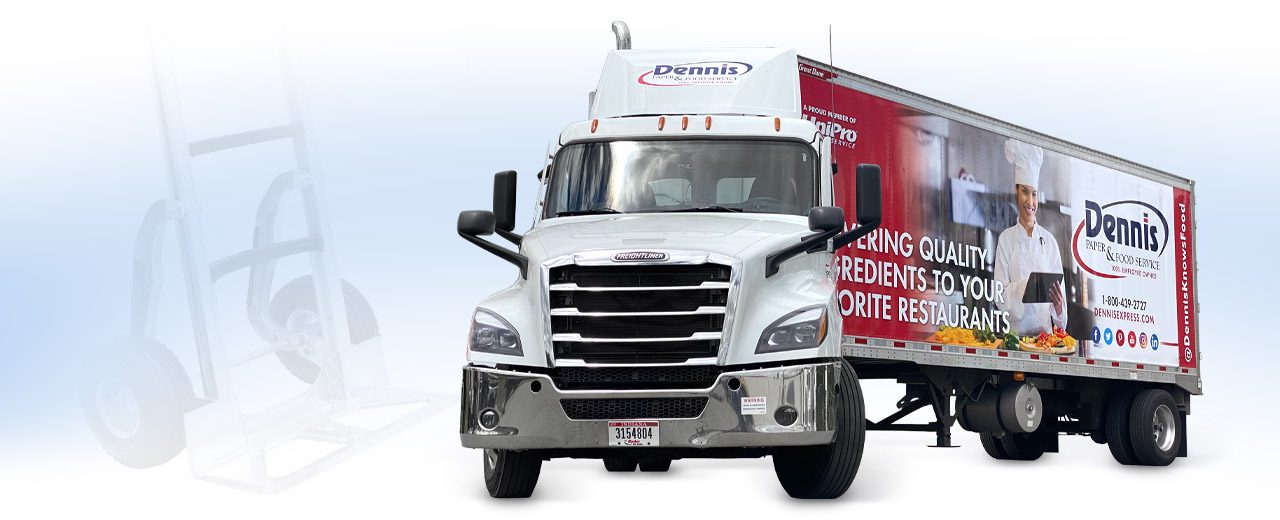 KICK ASS
TRACTORS
YEAH, WE SAID IT.
We're growing and we're looking for the best to join our team of professional drivers.
Is that you?
We're on the hunt for motivated people who can work with the mindset of an owner to increase efficiency, profitability and customer satisfaction.
If you find energy and purpose in a fast-paced environment, are motivated by team-spirit, enjoy being well compensated, and like coming home every day… consider a driving career at Dennis Paper & Food Service!
Want to learn more?
Call 1-800-439-2727 and ask for Thomas White.
New Rigs, Serviced Regularly
We know the truck you drive everyday matters, it matters to us too. As the fastest growing independent foodservice distributor in the Northeast we need rigs that can keep up. That's why we use the new Freightliner Cascadia® to pull our trailers. You'll recognize the quality names behind our trailers too–Great Dane and Utility Trailer. We also work with local trusted partners to maintain our fleet, including Dysart's Service Center and their decades of trusted experience.
Here's the bottom line…
We buy good trucks, we run good trailers, and we're growing into new territories. Can you see yourself in the cab of a Cascadia? Coming home at the end of every day? Being an employee-owner earning shares of the company profit?
Let's talk about your new ride – give us a call at 1-800-439-2727.
---
And here's what we did with those rigs last year…



1 MILLION
Miles driven by our team in 2021.
3 MILLION
Pieces delivered by our team in 2021.
60 MILLION
Pounds delivered by our team in 2021.
100,000
Deliveries made by our team in 2021.
YOUR RIDE IS HERE.
Join a 100% Employee-Owned Company
We've been in business for 114 years. We're employee owned.

Career stability is implied.
We've been delivering goods and growing for over 100 years. Now we're exploring new roads, serving new customers, and hiring more owners. But, we get it, you want to know more. This is a big decision and you've got options. So, let's talk, we'll answer any questions you've got.
---
Let's talk.
No pressure, just a quick form.
Or, give Thomas White a call at 1-800-439-2727

Our drivers run the best routes in the New England, and they return home at the end of every day.
Are you ready to put that newly acquired Class-C license to work? Are you a long-haul driver looking for a new career in one location? Whether you prefer automatic or manual transmissions, day shifts or night shifts, rural communities or urban settings – we'll find the right route for you.
Check Openings in our Career Center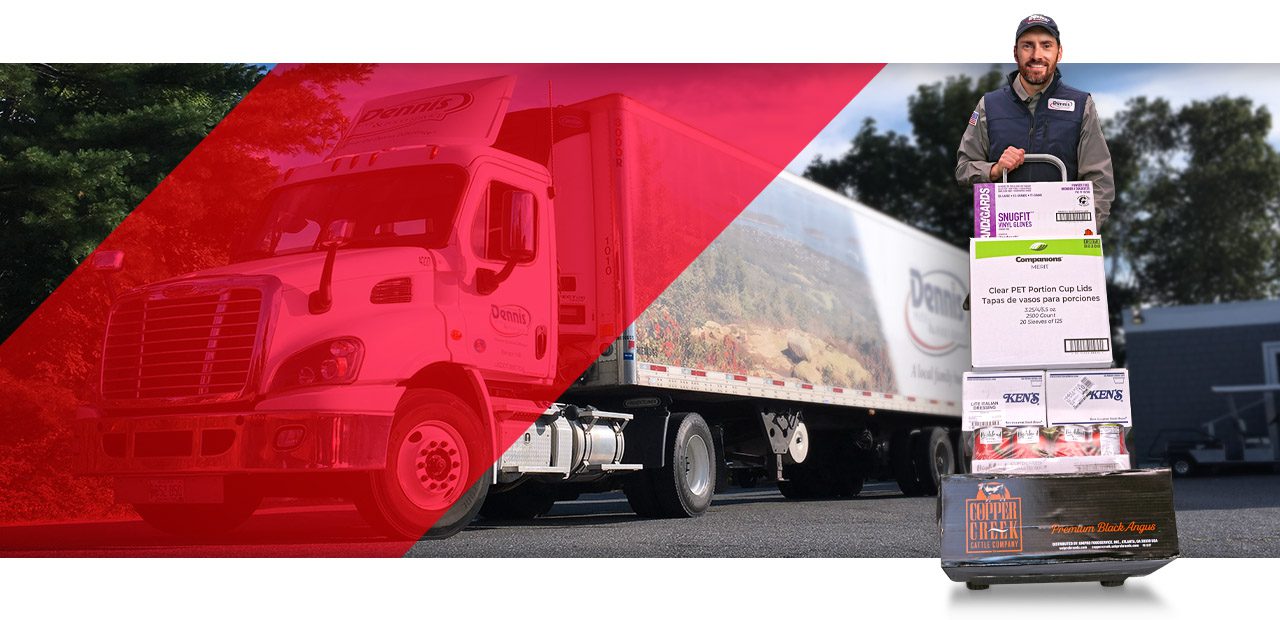 A DELIVERY CAREER
THAT REALLY
STACKS UP!
If you're comparing retirement plans, put us down for

2X

.
We're and ESOP – that's like owning vs. leasing. You'll join us in ownership and help us add to the bottom line. And let's just say that the last bottom line we saw let left us smiling.
Think of it this way… The money that's earned by the hard work we put in, the miles we drive, and the customers we service – we know where that goes. It's a pretty good feeling knowing that our share of the profit adds up to a payout.
Learn More About Dennis