Try these ow-worthy variations of a New England favorite! One sorta traditional and one naan traditional…
We're using Island Made Ocean Clams and cooking up two variations of a New England favorite – clam rolls! One sorta traditional and one… naan traditional. The rich, clean, ocean flavor of these clams offers a top-quality dining experience for even the most discerning seafood & clam lovers.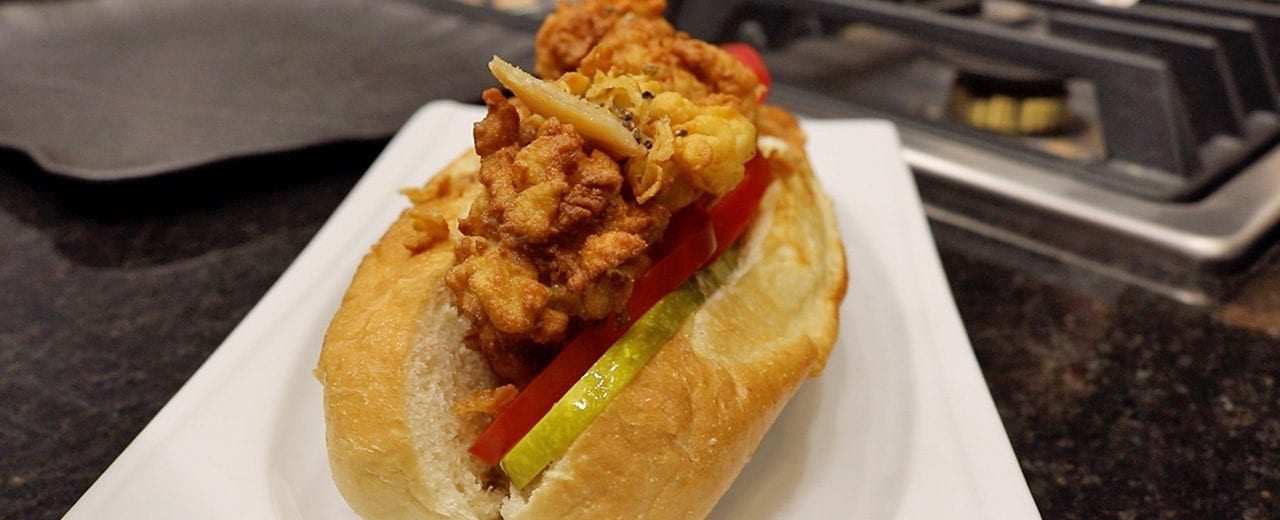 Simply Clam Roll
Buttermilk Fried Island Made Clams, Buttered Roll, Pickle, Mayo, Tomato
Although this is not your traditional style clam roll, it does maintain the integrity of simplicity. All focused Spotlight are on the clams but by adding mayonnaise and dill pickles to this clam roll, your taste buds are tricked into the fundamental flavor profile of tartar sauce, and the addition of tomato adds the sweet citric flavors. Dill pickle, mayo & Tomato = the new tartar sauce Makes 2 Rolls
INGREDIENTS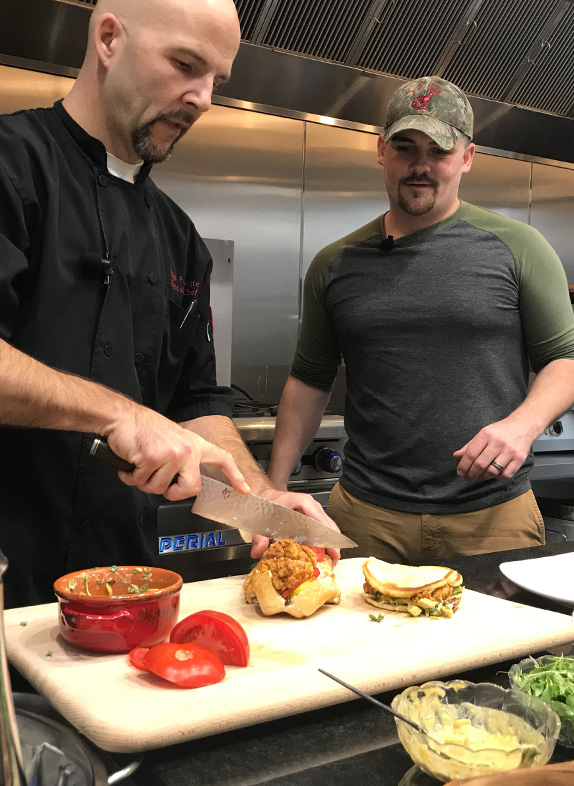 6 oz Island Made Clams
1 oz buttermilk
1 generous pinch crack black pepper
Clam Fry to coat clams
2 tblsp unsalted butter to toast rolls
2 traditional hot dog rolls or 6″ sub rolls trimmed
2 oz mayonnaise
4 ea dill pickle slices (if sliced lengthwise), if dill chip use 8-10chips, if spears use 2
6 slices vine ripe tomato
DIRECTIONS
Bathe clams in buttermilk & cracked pepper, dredge in clam fry to fully coat, fry @ 375 for about one minute or until light golden in color, transfer to paper towel to wick away excess oil.
Toast rolls in unsalted butter
Build your rolls by gently opening each roll as wide as possible, being careful not to split in two. Coat inside of roll with mayonnaise, a layer of pickles and a layer of tomatoes, top with clams.
Note: Island Made Clams have a natural oceanic brine so I purposely omit salt in the recipe. Feel free to top with fresh dill
Learn More about Ocean Clams from Island Made
See More Recipes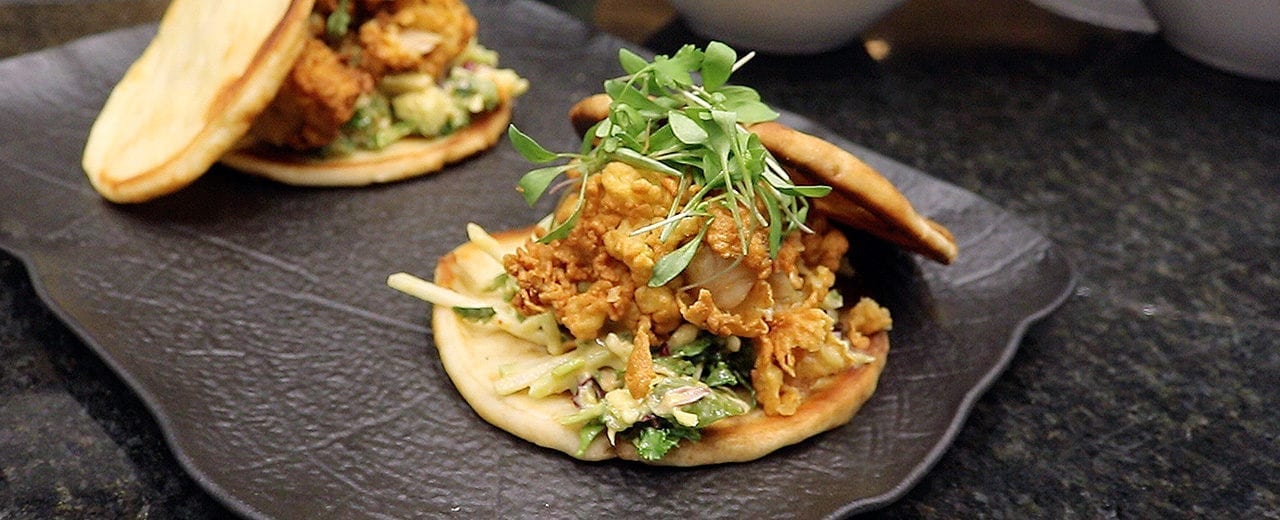 Naan Traditional Clam Roll
Flash Fried Island Made Clams, Butter Seared Naan, Avocado Slaw
For my love of clams, naan & sliders! This clam based slider is the perfect small sandwich for a bar bite menu or tapas menu or gastropub menu. Makes 6 sliders, sell by the pair (3 orders) or by the each (12 orders)
INGREDIENTS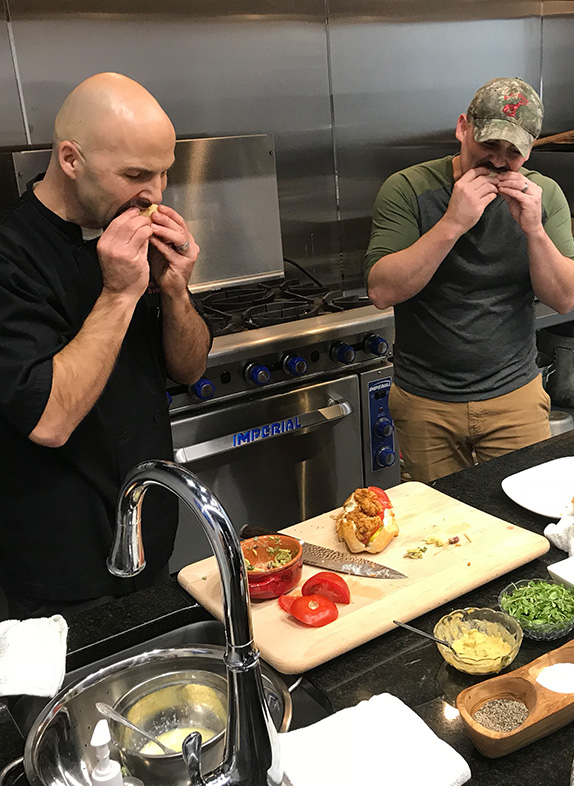 6 oz Island Made Clams
1 oz buttermilk
1 generous pinch crack black pepper
Clam Fry to coat clams
2 tblsp unsalted butter to warm/sear Naan
12 ea 4″ naan Rounds
1 ea avocado, a bit over-ripened
2 oz mayonnaise
1 oz olive oil
1 oz rice wine vinegar
1 oz Kogi Salsa Roja
1 tblsp granulated sugar
2 cups super-food slaw
2 ea scallions, shaved
1/4 bunch cilantro, rough chopped
DIRECTIONS
Bathe clams in buttermilk & cracked pepper, dredge in clam fry to fully coat, fry @ 375 for about one minute or until light golden in color, transfer to paper towel to wick away excess oil.
Toast naan in unsalted butter
For the slaw dressing cream together avocado, mayonnaise, olive oil, vinegar, Salsa Roja and sugar. Fold dressing with super-food slaw & herbs. Adjust seasoning to your taste.
Construct your sliders by placing one naan as the base, topping with appropriate amount of slaw, nestle clams over slaw, cover with a second naan
Note: Island Made Clams have a natural oceanic brine so I purposely omit salt in the recipe. When adding the top Naan be gentle not to crush the clams as they are delicate morsels of deep sea goodness
Learn More about Ocean Clams from Island Made
See More Recipes