Puff Pastry Recipes
Puff Pastry Dough Sheets & Squares
Chicken Dijon in Puff Pastry
A moist and perfectly seasoned chicken breast is nestled in a flaky puff pastry pocket.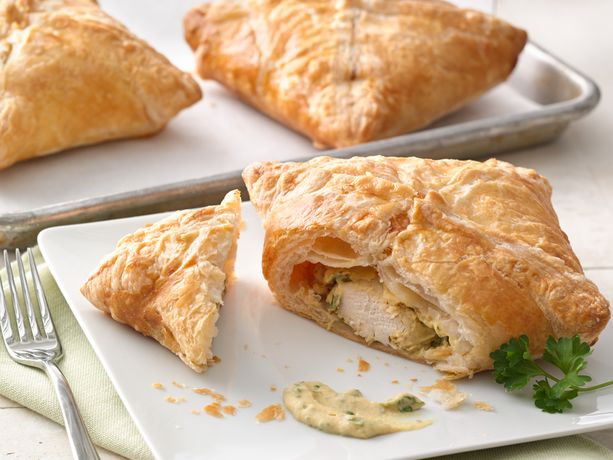 Servings: 16 servings (1 serving = 1 each)
Ingredients:
4 Sheets Pillsbury Puff Pastry Dough (Item #12876)
16 ea (4 lbs) Chicken Breast, Boneless/Skinless
1/2 cup Dijon Mustard
1/4 cup Melted Butter
1/2 cup Chopped Fresh Parsley
Instructions:
Thaw puff pastry sheets, covered with parchment paper, at room temperature for 15-30 minutes.
Roll out thawed sheets to 15 x 15 inches; cut each into 4 squares.
Place piece chicken in center of each square.
Stir together mustard, butter, and parsley in medium bowl.
Top chicken breasts with approx. 1/2 oz mustard mixture; top with approx. 3/4 ounce parmesan.
Brush corners of squares with water and wrap diagonally, overlapping over center of chicken.
Crimp edges to seal; place seam side up on two parchment lined full sheet pans.
Bake:
Convection Oven*   350°F    29-34 minutes
Standard Oven        400°F    43-48 minutes
*Rotate pans baked in convection oven one-half turn (180°) after 15 minutes of baking.
Tip: Double the Dijon sauce and serve extra sauce pooled underneath or drizzled over the top of the pastry, if desired.