Chicken Bacon Ranch Quesadilla
Classic ingredients, smoky bacon and Monetary Jack cheese between two grilled flour tortillas. Your customers are going to love this easy to prepare quesadilla. Perfect as an appetizer or as an entree when served with a side of Spanish rice and sour cream.
INGREDIENTS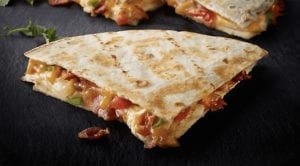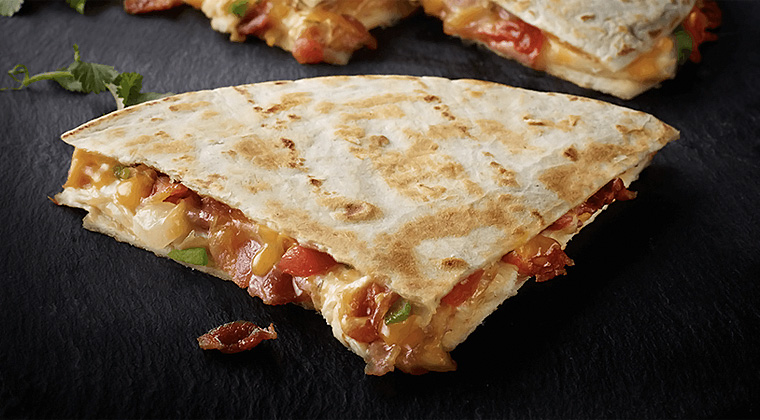 2 (10 inch) flour tortillas Item #26012
3 tablespoons Ken's Ranch Dressing Item #71012
1 cup shredded Cheddar Jack cheese Item #6002
1/2 cup Hormel All Natural Chicken Breast Strips Item #20103 (NEW)
6 slices Hormel Bacon 1 Item #20101 (NEW)
1/4 cup pico de gallo, drained
1/4 cup chopped picked jalapeño
DIRECTIONS
Grill 6 Hormel Bacon 1 slices, remove from grill and chop
Grill fajita chicken until warmed
Lightly spray 1 side of each flour tortilla with cooking spray, prepare griddle for medium heat
Place 1 tortilla on griddle (spray side down). Spread ranch dressing evenly over tortilla
Layer with half the cheese, chopped bacon and chicken, and remaining ingredients
Sprinkle remaining cheese over top and top with remaining tortilla, (sprayed side up); press with a spatula.
Grill approximately 2 minutes per side, cut into quarters, serve with additional ranch dressing and cilantro, if desired!