Buffalo Chicken Flatbread
Buffalo Chicken Flatbread
Loaded with green onions, celery, chunky blue cheese, and savory grilled chicken, deliciously nestled on a bed of Sweet Baby Ray's Buffalo Wing Sauce… this flatbread is part pizza, part ultimate buffalo wing experience, that's alllll good!
INGREDIENTS

3 fl-oz Sweet Baby Ray's Buffalo Wing Sauce (#3654)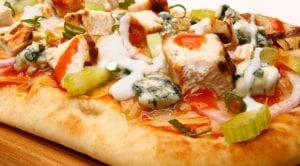 3 fl-oz Ken's Chunky Blue Cheese (#70908)
1/2  cup cheddar jack cheese shredded
2 tbsp sliced red onion
3 oz sliced grilled chicken
2 tbsp crumbled blue cheese
1 tbsp chopped celery
1 tbsp chopped green onion
1 flat bread dough 4×12
DIRECTIONS
Preheat oven to 450° F. Place flatbread on pizza screen or baking sheet. Top with SBR Buffalo Wing Sauce leaving a 1/4 in. border around edges. Evenly spread the cheddar, chicken, red onion, celery and blue cheese crumbles over the sauce in that order.
Bake until cheese is melted and pizza is golden brown. Remove from oven, slice and sprinkle with green onions. Serve with a side of Ken's Chunky Blue Cheese Dressing.