Barbecue Brisket Maucho Tacos
Barbecue Brisket Maucho Tacos 
Add some seriously impressive flavor to your Brisket with Ken's® Blue Ribbon Texas Barbecue Sauce. Mexican meets American cuisine with a twist in this savory dish, sure to be a hit with any crowd!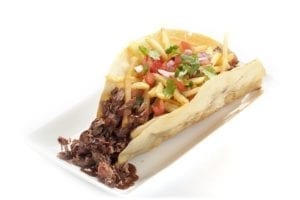 INGREDIENTS
12 inch flour tortilla fried into taco shell
6 oz smoked brisket chopped
2 fl-oz Ken's Blue Ribbon Texas Barbecue Sauce (#4183)
3 oz french fries cooked, seasoned
2 fl-oz pico de gallo
1 tbsp cilantro leaves
DIRECTIONS
Place large fried taco shell on serving plate and fill with hot smoked chopped brisket, drizzle with barbecue sauce, top with hot fresh french fries and finish with pico de gallo and fresh cilantro leaves.