Bao Beef Buns
A Chinese staple made simple. Heat shredded pot roast, stir in spinach and hoisin sauce, wrap in bao bun and steam!
INGREDIENTS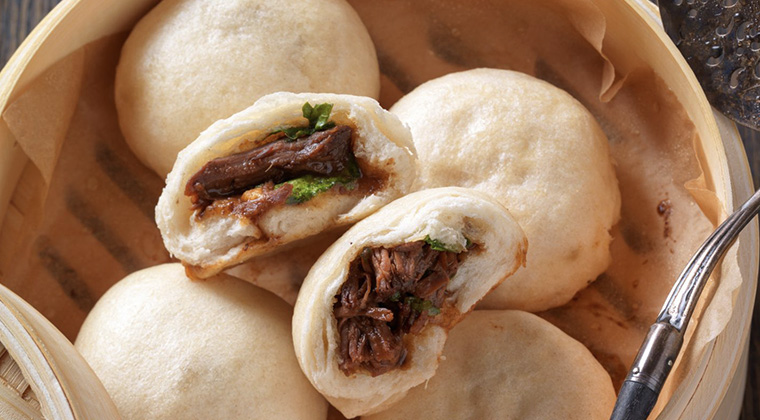 12 ounces cooked beef pot roast
1 cup chopped, spinach, green onion or Swiss chard
1/2 cup hoisin sauce
10 bao buns
DIRECTIONS
Chop or shred pot roast; place in large dish. Stir in spinach and hoisin sauce. Warm until sauce is thickened and beef is coated with sauce.
Cut parchment paper to line basket of stove-top steamer, cutting hole in center as needed. Add water to steamer, making sure water level is below basket. Bring water to boil.
Place bao on cutting board. Flatten each piece of dough into 3-inch square, extending corners.
Press corners onto board with thumbs. Place about 1 tablespoon of beef mixture in center of bao. Bring opposite corners up and over filling, pinch together. Repeat.
Turn buns over until ready to cook. Place buns into steam basket in batches, keeping at least 2 inches apart.
Cover and steam 7 minutes or until reach temperature of 190F and the filling is 165F.
Gently remove buns from basket with tongs; cool. Repeat until all buns are steamed, and serve!
See More Sauces & Recipes