Sriracha Glazed Pan Roasted Vegetables
Sriracha Glazed Pan Roasted Vegetables
A fresh and fiery side with a hint of garlic! This upscale vegetable medley pleases with a kick of Sriracha glaze. Featuring a trendy ingredient, it's quickly prepared fresh and reads great on menus or specials board. Perfect as a side or in a spicy vegetarian dish with mixed rice or quinoa blend.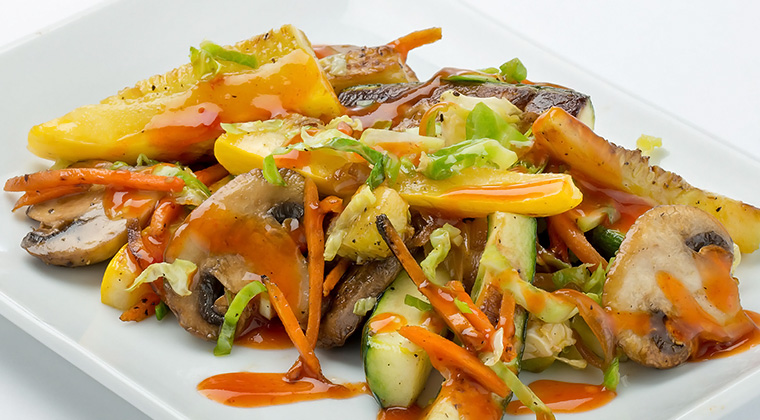 INGREDIENTS (Per Serving)

8 oz vegetable medley (carrots, zucchini, yellow squash, mushrooms, shaved Brussels sprouts)
1oz caramelized onions
12 oz olive oil
2 oz Sweet Baby Ray's Sriracha Sauce (#11064)
Salt and pepper
DIRECTIONS
Heat sauté pan, add oil and pan sear vegetable medley
When vegetables are nearly cooked, add sauteed onions (do not over mix)
Sprinkle with salt and pepper and toss vegetable medley with Sriracha Sauce
Plate and drizzle additional Sriracha Sauce as desired
For best taste and appearance plate immediately.