Wholesale Heiwa Tofu
Heiwa Tofu is a small family business in beautiful Rockport, Maine. Their tofu is handcrafted in small batches using organic, non-GMO soybeans grown on Maine and New England farms.
Heiwa Tofu was founded in 2008 in a garage bay in downtown Camden. In 2012, they moved into Coastal Farms Food Processing in Belfast. In 2016 Heiwa purchased their own building in Rockport, Maine where they continue to expand and fine-tune their operation.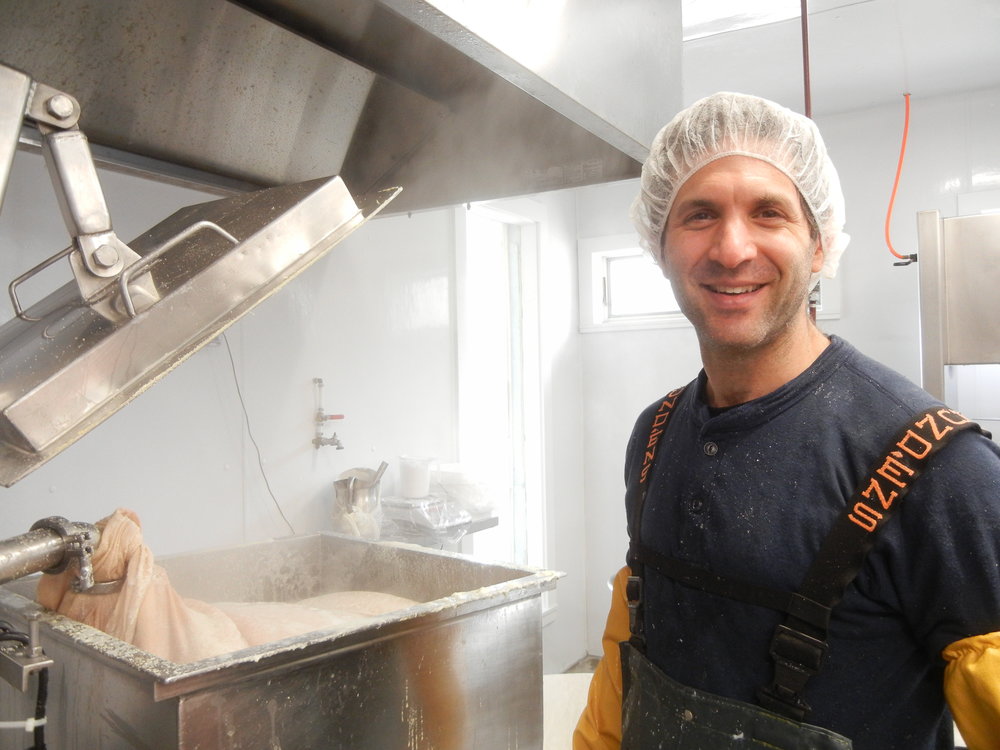 Jeff Wolovitz is the entrepreneur behind Heiwa Tofu. Jeff also works in the production room as the primary tofu maker. Passionate about small businesses, organic farming, and food production… he combined them to create Heiwa.
Heiwa Tofu is Item #26368
Tofu is prepared by coagulating soy milk and then pressing the resulting curds into solid white blocks of varying softness. It is a traditional component of Asian cuisine and has been consumed in China for over 2,000 years. It can be silken, soft, firm, or extra firm. It has a subtle flavor, so it can be used in savory and sweet dishes. It is often seasoned or marinated to suit the dish and its flavors. Nutritionally, tofu is low in calories, while containing a relatively large amount of protein.
VIDEO: Chef Tim takes you through Heiwa's tofu crafting process.
Q&A with Chef Tim and Jeff Wolovitz
Q: Tell us about yourself, have you always been in the culinary industry.
A: My education background is in Astrophysics, but I have always been interested in food. As I finished my bachelors degree, I abandoned continuing in Astronomy and spent three years working on organic farms, raising vegetables, fruit and animals. While I enjoyed farming, at the time, I decided that it didn't make sense and became a high school science teacher. That job never felt quite right for me either. I wanted to get back into the local food system – as a processor. I started the tofu business and spent my fifth year as a teacher teaching part time and making tofu part time.
Q: Tell us a little about your product.
A:  Heiwa Tofu is made with organic soybeans grown in Maine and New England. It comes vacuum sealed in 1 lb blocks — either 1 block or six blocks per vacuum bag. Always 12 blocks to a case. Heiwa tofu is firm enough hold up to the rigors of any commercial kitchen, but is still very tender and moist. It's a perfect balance that I've worked for years to create.
Q: How did you decide on the name Heiwa?
A:  Heiwa means peace in Japanese. We believe that increasing the amount of plants in our diets creates a more peaceful planet.
Q: Why tofu, has tofu always been a passion for you?
A:  I think it could have been anything. I looked for a niche to fill and wanted to produce something that was wholesome, nourishing and simple. It was also important to me that I could work with straight agricultural product that was sourced regionally. Tofu sort of leapt out as something no one else was doing in the region. Then I met someone that had made tofu commercially in the area in the 80s and 90s. He was a high school science teacher, too. He still had a bunch of his tofu making equipment in his barn, and was getting ready to move, so he sold it to me on a dime. Meeting him sort of sealed the deal for me.
Q: You started in a garage and grew into your current location. Can you touch base on the road traveled and hurdles endured to reach your current growth?
A:  I started in a garage bay that I rented out back of the Knox Mill in Camden. By the end of my first year in business, we were selling about 600 pounds of tofu per week. Fresh pack in buckets. I spent 4 years there before I had to move after getting caught in the cross-fire of a feud between my landlord and a neighboring landlord. At that point, we were selling about 1000 pounds per week. I relocated to the Coastal Farms and Food Processing hub I Belfast Maine. I was the first in. After 18 months, that business shut down. I was able to secure a lease with the building owner, but started looking for a new location immediately – the lease was very weak. After another 18 months, we had purchased, renovated and relocated to our current facility in Rockport, Maine. Still one employee, still about 1000# per week, but we were 6 months into the launch of a vacuum packaged product which had a shelf life 5 times that of the fresh pack pails. Now, three years later there are seven of us on the production team.  We produce and ship about 5000 pounds of tofu per week. We are busy just about all year round!
Q: There are many soy based products on the market, so In the world of tofu what makes Heiwa tofu unique to the tofu world?
A:  I'm not so sure what the other brands are doing, but people really love the taste and texture of our tofu. We use traditional methods and modern equipment. I think that helps give the tofu a fresh taste and nice soybean flavor.  In regards to the texture, that's our secret! It comes down to the ratio of the beans, water, calcium sulfate and curdling temperature as well as how we handle the curds after they form, breaking them up, straining the whey and transferring them to the pressing boxes. As an owner/operator, I've had years to work on improving our recipe to get that "oh-so-nice" texture – its firm, but tender and custardy at the same time. When we cut it fresh, it has a glossy, slick feel to it and that how we know we nailed it. I love squeezing packages of our tofu! It's so satisfying.
Q: What are the steps of making Heiwa tofu, walk me through the process?
A: Tofu is made with the following steps: soak beans (overnight – 12 to 18 hours), grind into a paste, cook with water, squeeze the liquid from the soybean meal to get soymilk, curdle the soymilk, break up the curds and separate the whey, press the curds into big blocks of tofu.
Q: What do you say to those not familiar or comfortable using tofu? Or even those who are normally meet eaters but like a healthy alternative from time to time?
A: Tofu is versatile. We like pan frying slabs or cubes in some oil and then seasoning it afterwards. The sesame garlic sauce on our website is a real winner everywhere I go with it. In many parts of Asia, tofu is not considered food for vegetarians. Its just another protein choice and is a staple part of the diet. In Japan, for instance, there are not a lot vegetarians, but many, many people (if not most people) eat tofu regularly.