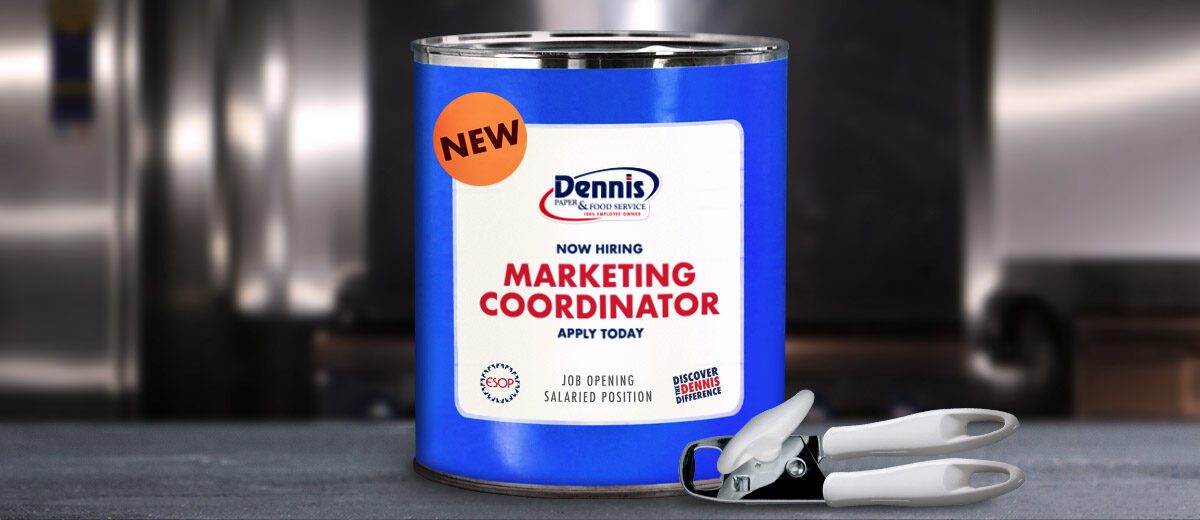 Now Hiring: Marketing Coordinator wanted in Hampden, Maine
Before you proceed, we have a few questions…

Do you plan to make plans?
Do you love the energy of live events?
Is Instagram your jam?
Does an organized Excel sheet excite you?
Is "Camera" one of the most used apps on your phone?
Do you walk the Tok? (TikTok that is.)

Do you head straight for the free samples at the grocery store?
If you said "yes" to at least three of these, you are free to keep reading!
Jump to Apply     Learn More About Dennis
---
Dennis Paper & Food Service, New England's fastest-growing independent foodservice distributor, is looking for a creative, driven, and organized Marketing Coordinator to join our team.
As Marketing Coordinator, you will play a key role in helping achieve immediate and long-term business goals across our various departments. You will create, plan, and manage food-focused marketing, communications, and events at an employee-owned company. You will work strategically alongside other owners to make a difference in our business and our customer's businesses.
Our ideal candidate is knowledgeable about marketing, B2B sales, and the foodservice industry. To ensure informed, accurate, and timely results of objectives all candidates must be self-motivated and willing to learn about and work with our various departments, including purchasing, sales, and operations teams. This position reports to the Chief Marketing Officer. All necessary tools and training will be provided.
Responsibilities:
Support company initiatives by planning and executing marketing efforts, social media contributions, and digital or physical content creation.
Actively "think about" creative content opportunities and driving engagement with customers
Inter-department scheduling, planning, and support
Plan and manage trade shows, conferences, events, and meetings, setting dates and times, coordinating assignments and schedules, establishing and maintaining contact lists
A.V. asset creation during events, meetings, demonstrations, training, etc.
Review, understand and use relevant data, statistics, and food service industry news. "Keep up-to-date" with trends and proactive opportunities.
Maintain an inventory of marketing and sales support materials, including creation, ordering, and inventory of promotional materials.
Continually reviewing, discussing, and revising website content to stay accurate, timely, and focused.
Assist other departments in the deployment and use of marketing assets
Other duties and responsibilities as assigned
Pay:
Full-time, Salaried Position
Benefits:
    401(k)
    401(k) matching
    Dental insurance
    Employee assistance program
    Employee discount
    Flexible spending account
    Health insurance
    Health savings account
    Life insurance
    Paid time off
    Retirement plan
    Vision insurance
---
Apply Today
---
Dennis Paper & Food Service provides equal employment opportunities to all employees and applicants for employment and prohibits discrimination and harassment of any type without regard to race, color, religion, age, sex, national origin, disability status, genetics, protected veteran status, sexual orientation, gender identity or expression, or any other characteristic protected by federal, state or local laws.
This policy applies to all terms and conditions of employment, including recruiting, hiring, placement, promotion, termination, layoff, recall, transfer, leaves of absence, compensation and training.