Meet the Owner
River White
Delivery Driver
We're highlighting our hard-working employee owners! Meet River White.
River has worked at Dennis Paper & Food Service for just over two and a half years. He is one of our top delivery drivers and his duties include delivering products to our customers in an efficient manor, meeting time requirements and restrictions, and helping to keep our customers satisfied.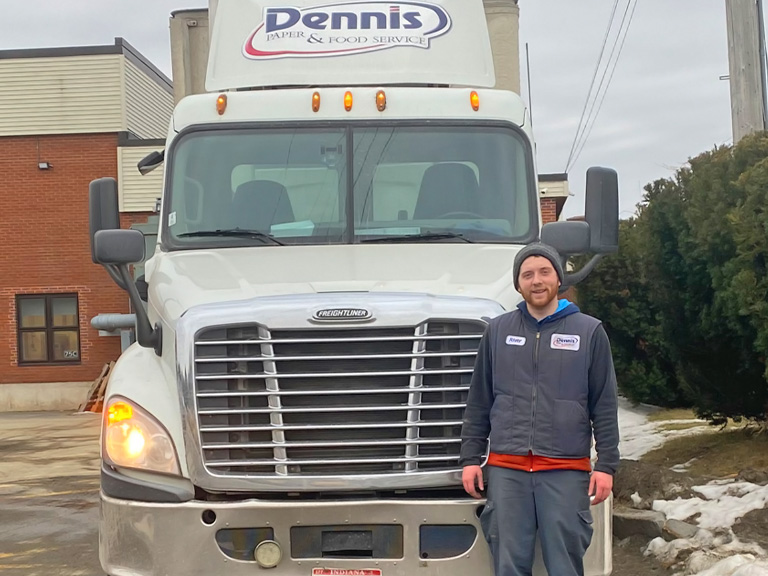 In his spare time you can find him fishing, biking or hiking in the beautiful Maine outdoors. He also enjoys playing video games, the saxophone, and working on vehicles. "I work a lot on my own vehicles, but the one I spend the most time on is a 1987 Pontiac Trans Am that I restored with my father and brother last summer", River shares.
River tells us that he isn't much of a "binge watcher", but he has really been enjoying the new Disney+ app."I love watching all the old Disney movies I watched a kid with my family growing up, without having to pull out all the old VHS tapes". When asked what his favorite dish to cook and eat is, he said "You can't beat a plate of classic spaghetti with meat sauce, and heavy dose of mozzarella cheese on top". 
"My favorite thing about working at Dennis is having to challenge myself in keeping up with demand of time sensitive stops, and meeting with all our customers. I try and deliver the best service I can – to create a positive experience all around". 
Thank you River for exemplifying The Dennis Difference!