Harvest Paella
A fun twist on a traditional Spanish cuisine. Chicken and shrimp simmered in turmeric and hot pepper sauce, and served on top of a bed of rice, beans, peas, tomato and basil.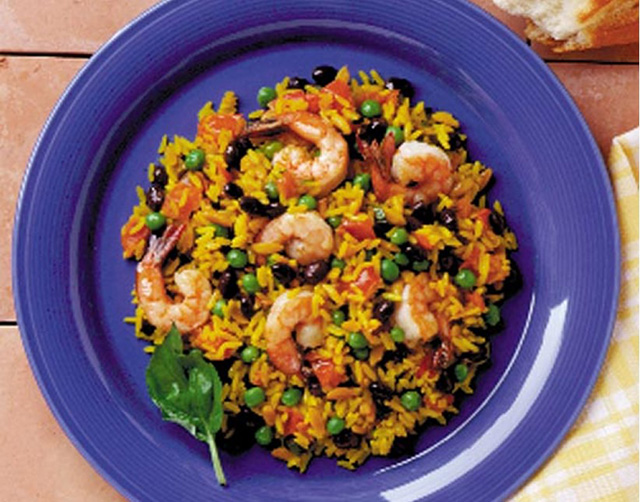 INGREDIENTS (4 Servings)

6oz Near East® Rice Pilaf Mix
1-3/4 cups water
1 tablespoon olive oil
1 teaspoon turmeric
1/2 to 1 teaspoon hot pepper sauce
8 ounces boneless/skinless chicken breast halves (about 2), cut into thin strips or 8 ounces medium shrimp, peeled and deveined
1 cup canned black beans, rinsed and drained
1 cup frozen peas
1 medium chopped tomato
1-2 tablespoons chopped fresh basil
DIRECTIONS
In 3-quart saucepan, bring water just to a boil.
Stir in rice, contents of spice sack, olive oil, turmeric and hot pepper sauce. Cover; reduce heat to low. Simmer 10 minutes.
Stir in chicken or shrimp; cover and simmer for 15 more minutes.
Stir in beans, peas, tomato and basil; cook 5 more minutes or until heated through.