Curry Chicken Kebabs
A bold pop of curry and the savory tang of yogurt on tender skewered chicken perfectly compliment a flavor rice pilaf.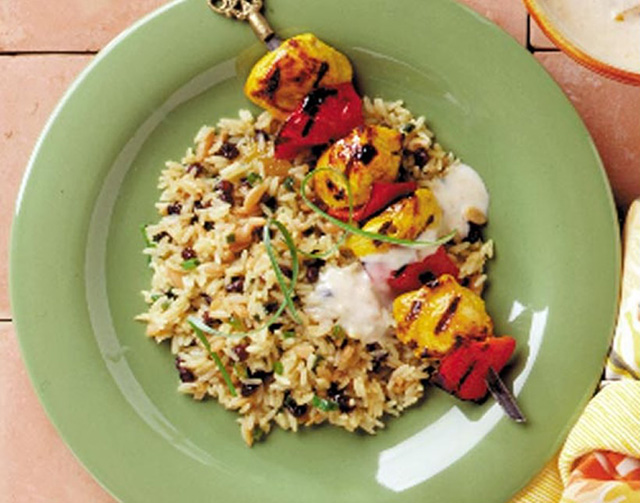 INGREDIENTS (4 Servings)

6oz Near East® Rice Pilaf Mix
1/3 cup currants or raisins
1/4 cup sliced green onions
3/4 cup plain low-fat yogurt
2 teaspoons curry powder
1/2 teaspoon garlic powder
12 ounces boneless, skinless chicken breast halves (about 3), cut into 1-inch pieces
1 medium red bell pepper, chopped into 1-inch pieces
1/4 cup mango chutney or apricot preserves, divided
DIRECTIONS
Prepare rice pilaf mix according to package directions, except stir in currants and green onions when adding rice.
In medium bowl, combine 1/4 cup yogurt, curry and garlic powder; add chicken and toss, coating thoroughly. Discard yogurt mixture.
Thread chicken alternately with bell pepper pieces onto 4 skewers. Grill or broil kebabs 4 to 6 inches from heat 3 to 5 minutes. Turn kebabs and grill an additional 3 to 5 minutes, or until chicken is no longer pink inside.
Meanwhile, in small bowl, combine 2 tablespoons chutney with remaining 1/2 cup yogurt; set aside.
When rice is done, stir in remaining 2 tablespoons chutney. Serve kebabs over bed of rice. Serve with yogurt sauce.